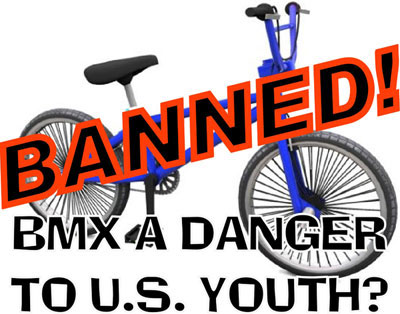 Une nouvelle loi est passée aux états Unis qui remet en question la sécurité des enfants sur les produits venant de l'Asie…En effet,le BMX est reconnu comme un jouet et doit donc être soumis au même contrôle …des test un peu comme ceux obligatoires depuis longtemps en France et fort couteux …:un lien pour une pétition en cours est sur le site BMX mania.
A new law was passed in the United States August 14, 2008 that would add testing for lead to thousands of items that had never had to be tested before. This came about as a result of toys being imported in to the U.S. from China earlier in the year with high levels of lead in the paint and product used to manufacture these toys and the Congress and President Bush charged the Consumer Product Safety Commission with protecting children in the U.S. from this danger.
As part of the new regulations to take effect, February 10, 2009 a « Lead Free » certification sticker will be needed for products to be sold after that date. The certification will signify that EACH part of a bike or BMX product has been tested at great expense to the manufacturer. For small BMX brands, this expensive testing will be the 'kiss of death' and will have no significant effect on the safety of those participating in our sport, as, NO ONE has ever been injured by lead ingestion from riding or chewing on a BMX bike.
These new regulations will apply to all bikes with 24 inch or smaller wheels, that the CPSC considers « Toys ». We know that what BMX racers, ride are NOT toys, but highly developed competition bicycles. If you want to make a difference in this oversight of regulation that will destroy many of the brands that we love and ride, sign this petition NOW, and respectfully lodge your protest with your Congressional Representative in the House of Representatives or your Senator in the U.S. Senate.
To find out how to contact your legislators, you can visit this web site. Please be respectful, but do SOMETHING now before it's too late. An amendment or competition waiver is the goal of the above petition, so feel free to mention that in your communications with your political representatives.
ACT NOW, this action is upon us SOON and if we do NOT speak up, we'll live with the costly changes and loss of freedom of choice for years!
Link to a good summation of these regulations: http://www.gklaw.com/publication.cfm?publication_id=750