On la joue « In english » pour vous mettre dans l'ambiance !
Vous connaissez maintenant !
A signaler, la participation de notre « américain régional », Gary Hellman, qui a préparé cette course « pour gagner » !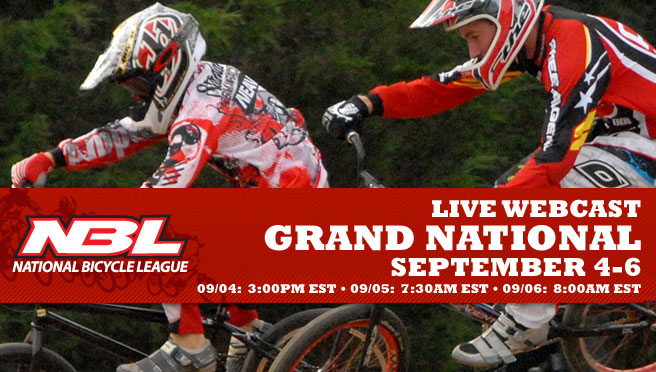 NBL GRAND NATIONALS LIVE WEBCAST LABOR DAY WEEKEND
The 32nd annual NBL Grand Nationals start Friday, September 4th. GO211 is webcasting all the races LIVE from Louisville, Kentucky throughout Labor Day Weekend including the Elite Championships, which air Saturday.
Don't miss the exciting pro races as Olympic Gold Medalist Maris Strombergs goes head-to-head with GO211′s Randy Stumphauser for the Elite Men #1 Title. In the Elite Women series, GO211′s Alise Post trails Dominique Daniles by a mere 13 points in the hunt for a national title, tune in to see who finishes on top.
The Amateur and Pro qualifying races also air Saturday. On Sunday, fans can watch the Pro and Amateur finals which start at 7am EST.
Watch the NBL Grand Nationals on the go. GO211 MOBILE delivers streaming webcasts right to your cell phone. Just visit go211.mobi from your mobile device to watch the webcast from the palm of your hand.
GO211 will re-air all three days of racing Sept. 8th – Sept. 10th.